Muller plans for 67-bed care home in Newbury
Muller Property Group is seeking planning permission for the redevelopment of the site and construction of a 67-bed residential care home with associated car parking, hard and soft landscaping, and new pedestrian and vehicular access on land adjacent to Kennett Reach within the settlement of Newbury.
The outline application to West Berkshire Council is made with landscaping as a reserved matter.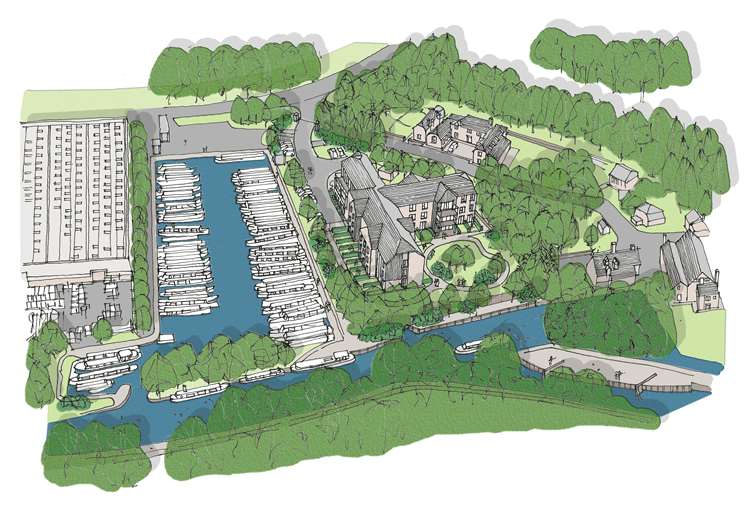 The site is 1.3 acres (0.54hectars) in size and comprises an overgrown disused garden, tennis court, scrub vegetation, and with trees and hedgerows around the perimeter. It was formerly part of the garden of the adjacent Ham Mill; however, it hasn't been used for many years now.
The site lies south of the dual-carriage A4 London Road and is accessed from a local road serving a handful of nearby dwellings, Ham Manor marina to the west and is bounded by River Kennett to the south.
The proposed development is within a short walking distance to the centre of Newbury via the towpath navigation and provides frequent bus services along the A4 between Newbury and Thatcham.
The 3 storey, care home building will include recreational spaces for guests including a lounge, dining room, cinema, and activity room, a hair and nail salon, landscaped gardens for residents, and spacious en-suite bedrooms with external aspect.
Colin Muller, chief executive at Muller Property Group said: "There is a significant shortage of specialist care accommodation for the elderly in the town of Newbury in its entirety and its surrounding rural areas. There is a demand for 696 en-suite care bedrooms to serve the elderly population, and an undersupply of 213 en-suite bedrooms. This is a shortfall which exceeds the current pipeline developments within the area.
"This statistical undersupply is mirrored across the wider District pointing towards a considerable shortfall exceeding 500 en-suite bedrooms.
"The opportunity to redevelop the site will provide a high-quality, up to date, purpose-built care scheme with facilities that will assist in offsetting growing need of residential accommodation offering care and well-being to the elderly people with frailty issues."
You can additionally read it on Insider Media, here.
For more information on the site, visit here.